I never tend to set myself proper goals for books i tend to just read whatever looks interesting and a good read, but because of this I tend to stick in my comfort zone genre;
crime, thriller, mystery
. I have seen some really interesting books under other genres such as fantasy, science fiction, biographies, and real life accounts. So my first goal/resolution/whatever will be to
step out of my comfort zone!
Read some classics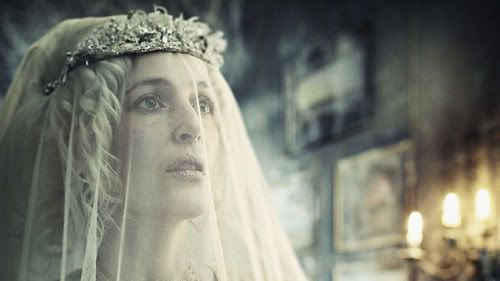 (Image: Miss Havisham from the BBC adaptation)
I will admit I have never read any 'classic' books such as Pride & Prejudice, Jane Eyre, and Great Expectations. Everyone always raves about these books and (mostly due to guilt) I really want to read a few book before 2012 is over, especially Great Expectations; as i watched it on the BBC iplayer a few days ago and fell in love with the story line.
Reorganise my books
I am officially a book hoarder. I have about 50 books in my wardrobe stored away, and another 200 taking up space in the garage. Whenever I see them i get a little pang of guilt that they are sat there collecting dust, and I know that I am very unlikely to re-read the books again (especially with the above goals) but I can't bear to part with them!
Hopefully this year when I move back home from University in June I can muster up the courage to tackle my ever growing book collecting and donate them to charity.
I hope you all had a lovely start to the new year, and i will be updating regulary (at least once a week!). So keep your eyes peeled!